How to create a graphic design profile that stands out
There is no denying that freelance work can bring you incredible benefits, from ‌improved work-life balance to increased autonomy. Yet freelancing can be a highly competitive industry; in 2023, it's estimated that there are over two million freelancers in the UK with 90% of these people relying on freelance work as their main source of income.
This year's National Careers Week (which takes place from the 6th-11th March) is an important event for young people starting their career and for career movers looking for their next roles. In addition, it is a great networking opportunity (both in-person and online) to research roles in graphic design and to learn more about the companies that might recruit them.
However, there is also a huge demand for graphic designers right now which means that anybody considering a freelance graphic design role (either to kick-start a career or to go full-time), must ensure that they stand out. Sites like PeoplePerHour let you, as a freelancer, search for and accept projects from prospective clients. So how can you ensure your profile captures the interests of those clients who need your expertise, design skills and attention to detail? How can you make sure that your profile is more impressive and enticing than the estimated 30,000+ other graphic designers in the UK?
This guide will give you some essential advice to follow when creating a winning graphic design freelancer profile.
Make a good first impression
From the outset, you need to set the right expectations and make a good first impression. While a client will know the value a freelance graphic designer can add to their business, you need to showcase your credentials boldly and quickly. Imagine that you are a buyer, and you need to find one freelance graphic designer out of hundreds or possibly thousands. To say that is an overwhelming prospect is putting it mildly!
What catches your eye when you look at candidates' profiles? What makes you stop and think: 'a buyer would love the look of this person's portfolio'. The average time spent reviewing a CV is approximately six seconds, and your profile is essentially your digital CV. So it needs to have those eye-catching elements readily available to make sure any interested clients are instantly gripped. It's wise to assume that many recruiters will skim-read your profile and will be drawn to specific features if they're noticeable and attention-grabbing enough. Ideally, you want them to stay on your page for as long as possible before deciding to approach you.
Here are seven ways to make an excellent first impression on someone in need of a freelance graphic designer and stand out from the crowd.
1. A professional profile photo
Your design profile picture is likely the first thing that a potential client will see. It can be difficult to convey who you are, the type of design work you specialise in, and your own brand personality in a single photo. However, choosing the right photo is crucial.
Along with your headline (more on this below), it's the bait that lures potential clients to your profile. A professional photo can help you make a solid first impression.
Try to have the photo professionally taken with minimal distractions in the picture. You're likely to attract more prospective clients if you use a DSLR with some professional lens filters than if, say, use an outdated, pixelated or out-of-focus photo from your phone's camera roll. Think carefully about how you want to look to clients.
2. An engaging, specific bio
Your bio (or summary, headline, profile description, or other variation) is arguably as powerful as your profile picture. Your headline is your elevator pitch, an opportunity to introduce yourself to the thousands of businesses out there seeking your creativity and artistic flair.
Your headline should be specific and accurate, highlighting any niche skills or industries you work in. For example, if you are a branding and logo specialist in the IT or tech sectors, you can stipulate this in your headline, helping you to stand out to IT and tech businesses. Consequently, this saves you time in syphoning through enquiries for work that you can't or don't want to fulfil.
The more specific you are, the more likely that your headline will engage the clients you are interested in working with.
3. A wisely-used portfolio
As a designer, your portfolio shows prospective clients what your design style is like first-hand, including your use of typography, spacing, colour palettes, and other design elements they might be looking out for.
If you can share work via a portfolio, make good use of it. Again, similarly to the headline, if you want to deliver specific niche work or help clients in certain sectors, make your portfolio reflect the work that emphasises your specialisation.
It might be prudent not to upload anything and everything you have ever worked on. Instead, dedicate portfolio spaces to the projects you are most proud of, and provide background information if you can.
4. Quality over quantity
As said above, freelancing is highly competitive. You can probably wax lyrical about what makes you unique and stand out from other designers. However, 99% of clients aren't going to immediately grant you the benefit of the doubt.
Therefore, you can describe your experiences, skills, education, and qualifications, but do so in a concise way. Don't overload your profile with paragraphs of exaggerated or hyperbolic text, because ultimately you want to support what you say.
However, keeping it short and sweet will help clients get a solid idea of your background, skills and attitude towards the projects you could be considered for.
5. Active responses
Your skills and experience will evolve, and your portfolio will expand as time goes on. Therefore, if you are relying on platforms like PeoplePerHour to generate client work, it's a good idea to regularly check your profile and update it.
Clients will take responsiveness and dedication seriously. It can seem counterproductive to flood your profile with recent updates and achievements, but it shows that you are active. Furthermore, the more promptly you can respond to a client, the more likely you will be to secure a project.
Make sure you stay active even if you have not submitted proposals or are in the midst of multiple projects simultaneously. It can negatively affect your "SEO" ranking on PeoplePerHour if you're not responding to buyers within 24 hours of when they messaged you.
6. Endorsements & Reviews
It is perfectly acceptable to ask your clients for reviews and testimonials about your work. If they are satisfied with your graphic design work, it stands to reason that they will be willing to provide you with a glowing testimonial.
Endorsements on PeoplePerHour are particularly useful when you don't have any reviews on the site. Endorsements can come from previous clients or employers that can vouch for your quality.
Once you have your first client, then it's all about ensuring you receive a positive review for your work. Reviews count for so much in the digital world today, with numerous businesses only committing to an investment after having read reassuring positive reviews. Once you have a high rating on the site, you'll find it becomes much easier to gain new clients, and they may even come straight to you.
7. Create an offer
An offer is the perfect tool to help you attract buyers to find your profile and services on PeoplePerHour. By making an offer, you can effectively create a pre-packaged service at a fixed price that buyers can purchase as if it was a product on an e-commerce website. For example, you could create a logo design offer for £200 that includes a certain amount of revisions. You can then offer optional extras such as a full set of brand guidelines, that the buyer can add on if they wish for an extra cost. Here is a good example of a successful logo design offer.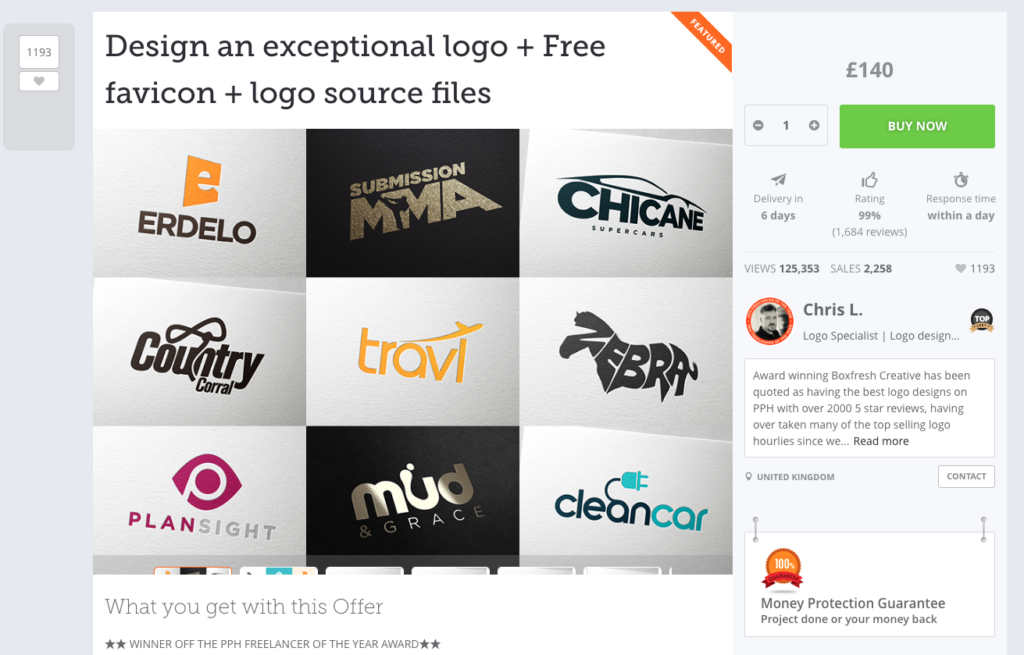 For more tips on how to create a killer offer, have a read of our helpful guide.
8. Other linked accounts
Linking your profile with other digital accounts you may have is also a good move and one which doesn't require a huge amount of effort. As a graphic designer, you may have a standalone digital portfolio, social media platforms like Instagram, Facebook or LinkedIn, or even collaboration tools like Red Pen or InVision.
Linking as many public-facing profiles and accounts together via your freelancer profile will give prospective clients plenty of avenues to explore. While they may not digest everything you supply, giving them more is better than not giving them enough.
The key to winning proposals and working with a wide range of reliable clients is to create an incredible graphic design profile. After reading your profile, prospective clients should be convinced that you're capable, trustworthy, and well-equipped for the design work they're looking for. After all, graphic design can help businesses grow, and if you're in contention, businesses are going to look for specific criteria for your profile to fill.
If you're new to creating a profile, take it one step at a time. Consider getting assistance from a professional third party who can proofread and scrutinise your profile for gaps that you may not have considered. Constructive criticism is vital for getting your profile right from the outset, and also for getting those finishing touches spot on.
Good luck with creating your graphic design profile. May your foray into the freelance world be filled with prosperity and excitement!