Meet the winners of the PeoplePerHour Freelancer Awards: Noman Khan
This is part of our series of PeoplePerHour Freelancer Awards 2017 interviews with winners.
Noman Khan, the winner of The Design Mind Of The Year award, says he would have abandoned his dreams to be a freelancer if it wasn't for PeoplePerHour.
How and why did you get into freelancing?
I remember, when I was 17, I thought about my future and there were so many options to choose from… but I'd decided to go into the field of Graphic Designer because I felt that I have the guts and passion for the creative world.
One of my dearest friends encouraged me to join a freelance platform and when I started researching the available options, I found PeoplePerHour on the top of my list. Once I reviewed the platform and the working atmosphere of PPH, I knew that I had found my destination.
How did you get your first client?
This is a very interesting story. When I updated my portfolio on PPH, it took me only half an hour to feature my Houlies and profile (which is a fantastic feature on PPH) to expose my skills and I started receiving requests from numerous clients almost immediately.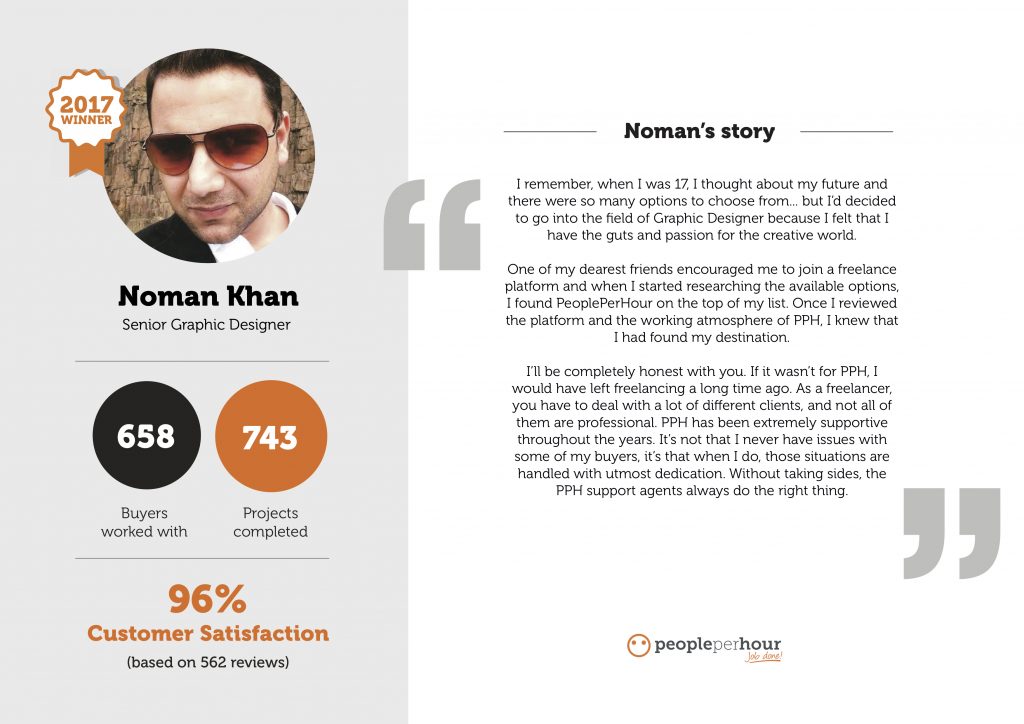 What is the most enjoyable part of being a freelancer?
I believe that creativity doesn't have to happen between the hours of 9 am to 5 pm. Freelancers love that they get to make their own schedule and my dreams have come true when I joined PPH.
And what is a pain?
Freelancing is not such an easy job if the freelancer is not part of PPH. PPH makes it a lot easier to earn based on your skills and experience.
Thousands of skilled professionals are planning to take
the leap and start working for themselves.
What advice can you give them?
I would advise every freelancer to follow the simple rule, "Be loyal, be creative and be professional".
How has PeoplePerHour helped you in your journey?
I'll be completely honest with you. If it wasn't for PPH, I would have left freelancing a long time ago. As a freelancer, you have to deal with a lot of different clients, and not all of them are professional. PPH has been extremely supportive throughout the years. It's not that I never have issues with some of my buyers, it's that when I do, those situations are handled with utmost dedication. Without taking sides, the PPH support agents always do the right thing.
PPH continues to implement new changes to make this platform safer for all the freelancers and buyers and takes good care of all the members by running lots of promotions and sharing tips on how to boost sales.