Meet the winners of the PeoplePerHour Freelancer Awards 2017: Stephanie Benfield
On Thursday last week, we celebrated our 10-year anniversary and announced the winners of the PeoplePerHour Freelancer Awards 2017.
It's time to meet the star freelancers and hear their stories!
We'll kick off our series of interviews with a chat with Stephanie Benfield, the winner of the The Newcomer Of The Year award.
Stephanie, how and why did you get into freelancing?
I spent four years working as a project manager for a company who specialised in technical writing; I was responsible for ensuring and improving quality. One aspect of my role was developing a style guide. Through training courses and discussion with the authors, I quickly became fascinated in how to craft text that is not only easy to read but is also interesting and still makes sense when translated.
I then took a variety of courses and read lots of material and books on copywriting and began to practice, writing about anything and everything.
Last year, I was reading my friend's business blog and ended up offering suggestions on how to improve the article, and he then encouraged me to go into writing full-time. As I've always wanted to run my own business, freelancing and writing was a great way to do things on my terms.
How did you get your first client?
My first client was through People Per Hour, as it was here where I began my business. I was very fortunate that someone liked my hourlie and made a purchase. I was so thrilled when I got the notification of a purchase and practically ran home to start work!
While all sellers on PPH know the importance of great feedback to secure work, I will never forget that fact that someone decided to trust me even though I had no reviews to show for myself.  
What is the most enjoyable part of being a freelancer?
Obviously being able to manage my own schedule and workload is a huge benefit. However, the most enjoyable part is that I really do love what I do, and this is mainly because I am always learning. Whatever topic a client throws at me, I find myself fascinated by the industry.
Whether I'm writing about insurance or travel, products or business, I love storing up knowledge, boring my friends with facts they aren't interested in and hoping it will one day come in handy in a pub quiz!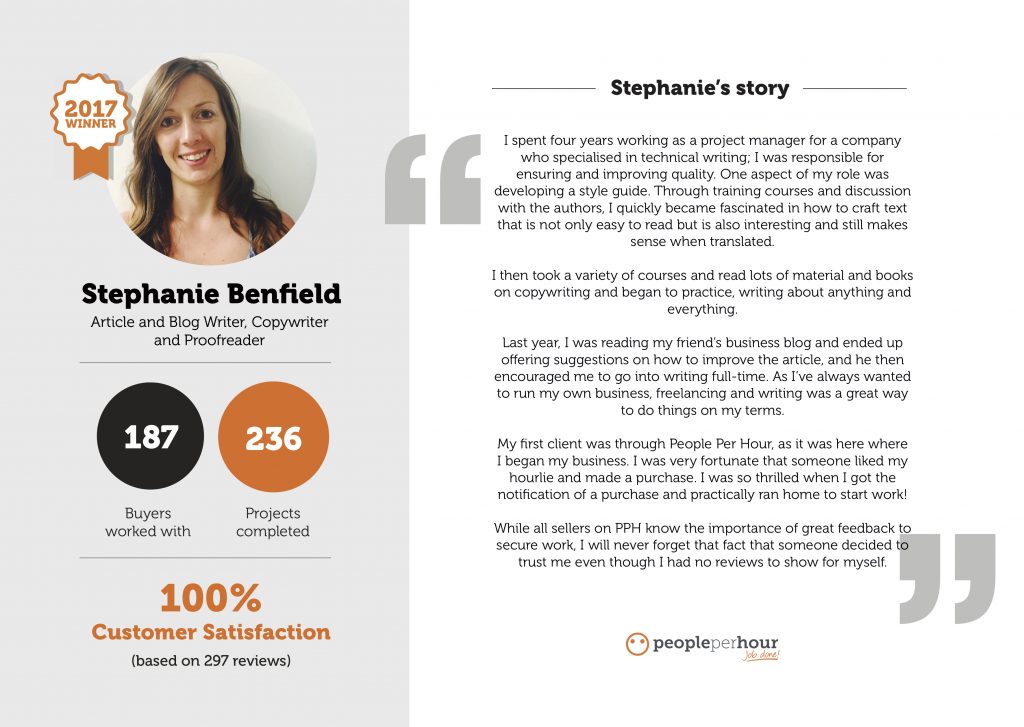 And what is a pain?
Writer's block! Sometimes, even after you've done endless hours of research, you still don't know how to start writing. Despite reading countless articles on how to cure the problem, I still end up staring at a blank screen.
Thousands of skilled professionals are planning to take
the leap and start working for themselves. 
What advice can you give them?
It's true; the 9-5 really is dead. Now is the perfect time to take control of your own career and become a freelancer and give yourself the work-life balance you desire. I think reading inspirational books such as The Four Hour Work Week by Tim Ferriss can be a huge boost and give you the motivation you need to start.
How has PeoplePerHour helped you in your journey?
PeoplePerHour was the start of my freelancing career and thanks to the systems in place; it has helped to grow my client base and enabled me to forge a successful career by doing something I love. People Per Hour is still my primary source of work – I'm addicted to it! I check it as soon as I wake up and keep it on throughout the day and often throughout the evening too!
About Stephanie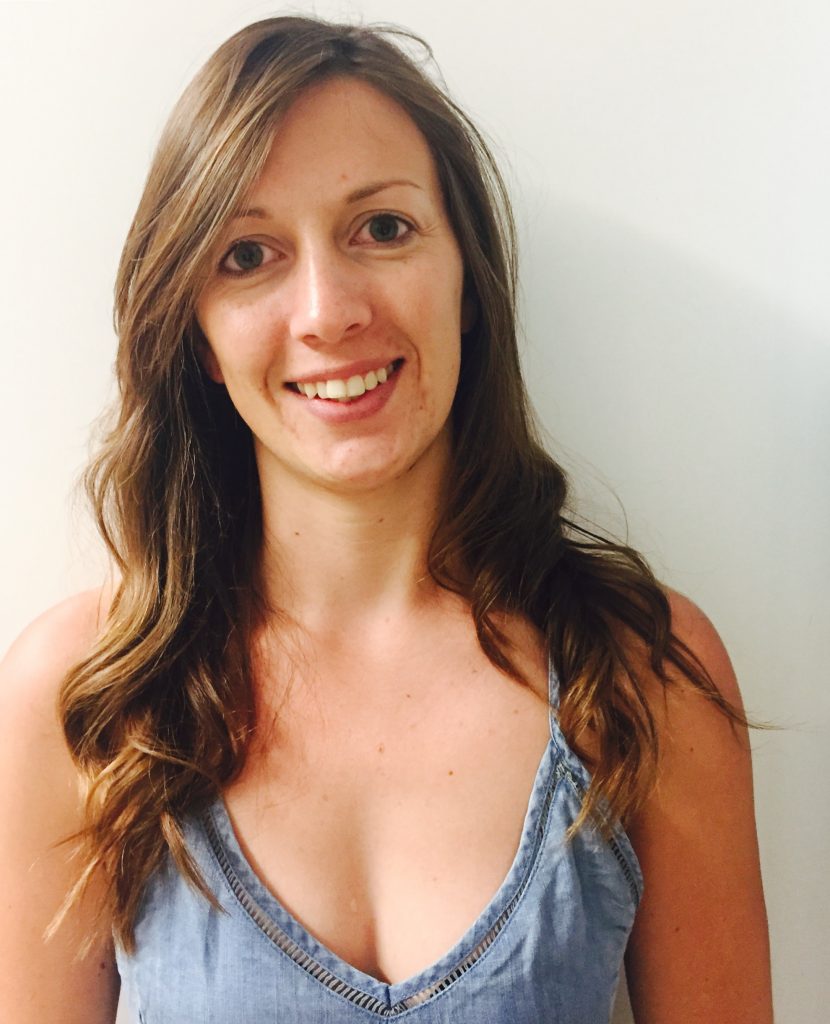 Stephanie is a researcher and writer who began freelancing on PeoplePerHour almost a year ago. When she is not working (or boring people with facts she's learnt during a day's work) she likes adventures, travelling, music, and reading and spends weekends watching football and MotoGP.
[button size='large' border=" border_color=" shadow=" color=" background_color='#ff7300′ font_size=" line_height=" font_style=" font_weight=" button text='View Profile' link='https://www.peopleperhour.com/freelancer/stephanie/article-and-blog-writer-copywriter/1387889′ target='_blank']