PeoplePerHour reveals 2017 Digital Nomad City index
Berlin is the best city in the world for digital nomad working, followed by Istanbul and Bangalore.
Manchester scores high (11th place) on digital nomad friendly index
London lags behind, only gaining 20th position 
London 6th July 2017: Berlin is the number one destination for those who wish to earn while they travel, according to new research conducted by PeoplePerHour, the UK's leading freelance marketplace.
With the digital nomad being a rapidly growing phenomenon, Germany's capital city appears to be best equipped to accommodate this new sector of the workforce, topping the Nomad Index* with their outstanding co-working facilities, relatively low rent and cost of living as well as a low crime rate.
Berlin was perhaps surprisingly, closely followed by Istanbul and Bangalore in second and third positions respectively, beating the likes of Melbourne and London owing to the low cost of living and relatively high quality of life in both cities.
Vancouver (4th) and Lisbon (5th) are the final two cities rounding up the top five. The Canadian city is often voted one of the best cities to reside, while Lisbon has one of the lowest crime rates of any of the cities in the index as well as having reasonably priced rents.
Other cities to make the top ten are Bangkok (6th), San Diego (7th), Tel Aviv (8th), Kuala Lumpur (9th) and Athens (10th).
As for the UK, while London took middling 20th place thanks to the availability of co-working spaces. Manchester only just missed the top ten, slipping into eleventh place.
At the other end of the scale, San Francisco is last on the list. Scraping into the top twenty five, the home of the Golden Gate Bridge doesn't offer many golden opportunities despite having a high number of co-working spaces available for the travelling freelancer. San Francisco was marked down owing to their high crime rate and cost of living coupled with relatively low quality of life.
Other cities near the bottom of the pile were New York (23rd) and Paris (24th).
Xenios Thrasyvoulou, founder and CEO of PeoplePerHour, comments: 'The number of people embracing the freelance lifestyle has dramatically risen in recent years with one in three people freelancing in some capacity. As people are seeing the benefits of a more flexible working regime, more and more of them are using the freedom that freelancing brings to see the world while they earn a living.
'It's really interesting to see which cities are best prepared to cater for this travelling market; it shows a forward-thinking attitude which will stand them in good stead in these changeable times.
'While British digital nomads may not place visiting London and Manchester high on their bucket list, it's good to know that the UK is ready to accommodate overseas freelancers with a taste for travel, which has the potential to terrifically boost local economies. And of course, there's nothing stopping local freelancers benefiting from the perks available to the travelling gigsters!'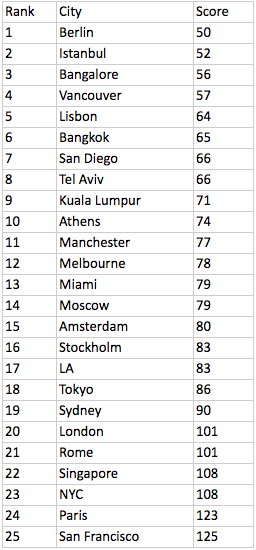 Don't forget to take our fun Digital Nomad quiz on Survey Monkey! We think you'll be surprised when we announce the answers!
Editor's Notes:
* Methodology
PeoplePerHour used a variety of data to rank each city according to the factors we thought would most impact digital nomads including:
Co working space
Monthly salary
Tourist visa required
Crime rates
Cost of Living
Rankings for each metric were added up to give an overall city ranking.
About PeoplePerHour
PeoplePerHour is the UK's leading freelance marketplace, driven by a mission to change the way people work and the way businesses operate. Founded by Xenios Thrasyvoulou – the longest-serving CEO in the freelance marketplace space – PeoplePerHour believes that the freelance economy can fundamentally disrupt the way companies, large and small, work and how they think about their Human Resource function. PeoplePerHour was founded in 2007 and has 100,000 active users in 188 countries and counting. £84 million has been paid out to freelancers on the platform in the last ten years.