7 cost-efficient ways to improve your SEO
Growing a business isn't easy. Roughly 20% of new businesses fail within the first two years. And on top of everything else, there's SEO to think about. For most people, SEO sends a shiver down their spine.
However, a strong SEO strategy can be the difference between your business failing or flourishing. Why? Because if you get it right, you can benefit from:
More relevant traffic to your site
Higher ranking in search results
Increased brand awareness
Whether you're a small business owner, or an overwhelmed marketing professional with a tight budget, we know you don't always have the time and resources to research everything there is to know about the latest SEO techniques. So in this guide, we've compiled seven cost-efficient tips to help you get the SEO basics right for your small business.
7 cost-effective tips for SEO
1. Help Google find your content
The first thing you need to check is that Google can find and index your website. Sounds obvious, right? But if Google can't find your content, nobody else will find it in the search results.
In Google, you can do a quick check by typing in your site's ‌URL – "site:yourwebsite.com":

If you see results, you're in the index.
If Google doesn't find any pages, then your site isn't indexed.
But don't despair. You can fix it by adding a Sitemap and a Robots.txt file:
A Robots.txt file tells search engines which parts of your site they can access. Here's Google's Robots.txt file.
A Sitemap helps search engines crawl your site. It lists each URL for your website plus information on when it was last updated and how often it usually changes.
Tip: If your website is on WordPress, you can use a plugin like Yoast SEO to generate your Sitemap and Robots files for you.
Once you've added those files, Google will be able to find your site and list your pages.
2. Research your keywords
It's essential to know how potential customers are searching for businesses like yours so that you can create content that attracts them to your site. Finding these search terms is known as keyword research.
You can start by jotting down a few search terms you'd expect people to use for your business.
For example, if you sold yarns, you'd expect people to search for terms like yarn, knitting needles, crochet needles, silk yarn, double-knitting yarn, sock yarn, hand-dyed yarn, etc.
These initial terms are called "seed keywords" – they are basic ideas (seeds) from which you can get even more terms (keywords).
The good news is that there are many free keyword research tools to help you expand your list.
For example, you could enter one of your seed keywords – e.g. "sock yarn" – into the Keyword Magic Tool and get a list of related keyword ideas: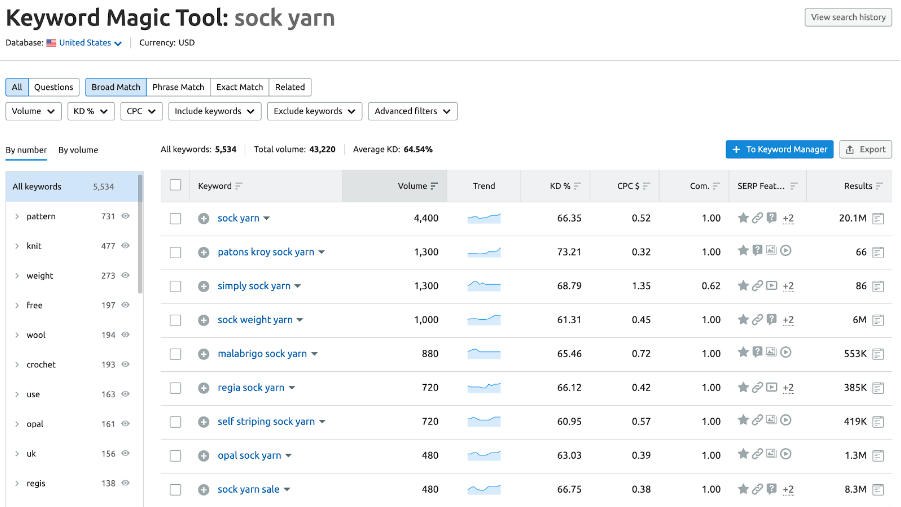 That's 5,534 keywords! Of course, you're not going to use all of them, but you can add the relevant ones to your list.
One of the neat features of the tool is that you can group your keywords. For example, you could select the group "Best" from the side and get a list of 120 keywords containing "best + sock yarn", such as "best yarn for knitting socks":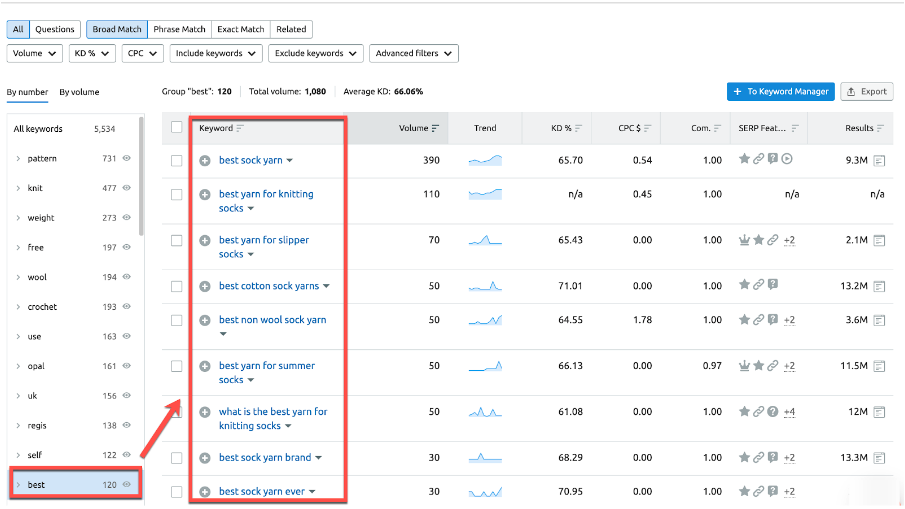 You can run this process for all your seed keywords to get a more topical and relevant list of keywords.
3. Analyse your competitors
One of the best things you can do when working on your SEO is to check and analyze your SERP (Search Engine Results Pages) competitors. (Your SERP competitors are those sites you're competing against in the search results).
You have a long list of keywords, but you want to know if you have a shot‌ at ranking‌ ‌on‌ ‌the‌ ‌first‌ ‌page‌ ‌of‌ ‌Google. Here's how to check your potential keywords with SERP analysis.
Enter your keyword – e.g. "best sock yarn" – into the Keyword Overview Tool and scroll down to the SERP Analysis section at the bottom of the page, where you can see the authority score, referring domains, backlinks, and search traffic of the Top 10 pages: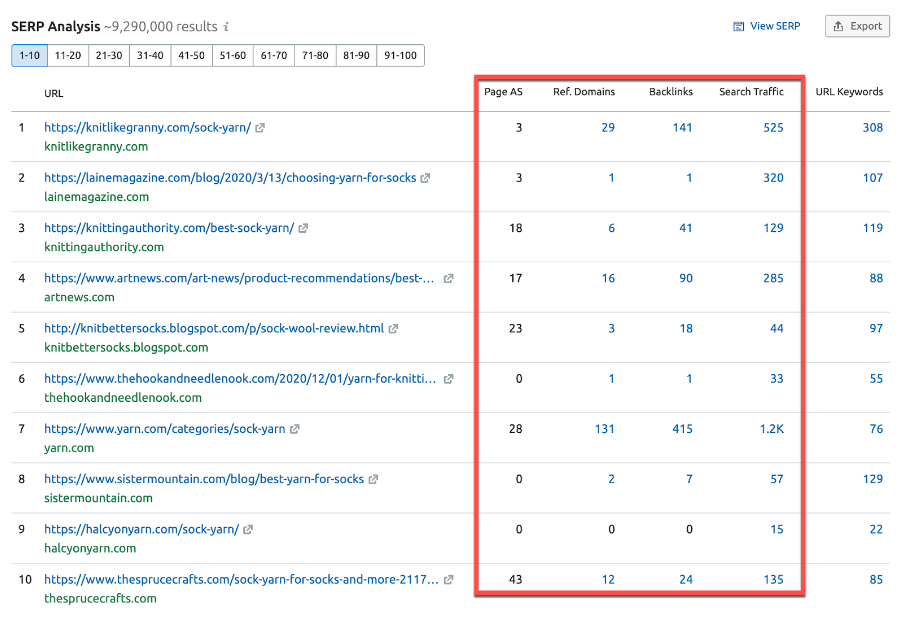 Authority score (AS): Ideally, you want to see at least five pages with single-digit or low-teen AS in the Top 10, and at least one of those in the Top 3. Our SERP shows five out of 10 with low scores, and two of them are in the Top 3.
Referring domains: Ideally, you want to see SERPs where most pages rank with single-digit or low-teen referring domain counts. Our SERP shows seven out of 10 pages like this.
So, looking at these results shows us we have an opportunity to rank for our chosen keyword. You can repeat this competitor analysis for each keyword.
On the other hand, your analysis might show that all your competitors have a high authority score, and that ranking above them would be extremely difficult. In which case, you may want to focus the time and resources you had earmarked for SEO on paid advertising, such as Google Ads or Facebook Ads.
4. Create better content
Here are three ways to make sure you create better content than your competitors:
1) Identify content type and format
You can check what type of content and format you need to create by looking at the SERP again. In our example, you can see the page titles and URL strings show that there's a mixture of blog posts and product category pages. When this happens, go with the predominant type, which in our example is blog review posts.
2) Focus on content quality
RankBrain – Google's AI search algorithm – wants easy-to-read, helpful, and comprehensive content. That makes sense because Google wants to provide the best answers to users' search queries.
Writing better content to meet that criteria may mean you have to write longer content to explain a topic thoroughly. But in some cases, a short piece of content will suffice as long as it answers the search query.
3) Structure your content
Follow these steps to make your content more readable:
Craft a winning headline – make sure your content delivers what your headline promises.
Start with a short intro – get to the point and explain what your readers can expect.
Use subheadings – think of them as signposts to guide readers through your content.
Write in short paragraphs – use 2-3 sentence paragraphs to keep visitors engaged.
Use bullets and numbered lists – convey large amounts of information in a concise form.
Add visuals – use relevant images, videos, screenshots, and diagrams to enhance your content. The Nielsen Research Group says:
"Users pay attention to information-carrying images that show content that's relevant to the task at hand. And users ignore purely decorative images that don't add real content to the page."
5. Promote your content
Now that you've written some great content, you need to promote it to the right audience that ultimately wants to share it with their network.
Here are three ways to promote your content:
1) Email marketing
Email marketing remains powerful and cost-effective, with research showing an ROI of 4100%. If you've built a list of email subscribers, you can contact them when you publish new content and ask them to share it with their community.
2) Social media marketing
Sharing your content on social media is still a great way to increase visibility, and ultimately ‌traffic‌ ‌and‌ ‌shares. But rather than "spray and pray," you need to have a sound strategy in place. That means you'll need to:
Select the most‌ relevant ‌ social ‌networks‌ ‌for‌ ‌your‌ ‌blog, rather than trying to post on every network.
Engage directly with people on those platforms, including other brands and influencers. Build relationships.
Participate in social communities and forums suited to your niche so that you can get involved in conversations and establish your authority.
3) Influencer marketing
Influencer marketing is the process of using social media influencers to promote your content to their audience. Influencers usually have thousands of social media followers, so they can reach more of your target audience than you could by yourself.
Depending on the influencer, you may have to compensate them for promoting your content. But many influencers in your network will happily share your content with their audience for free, especially if your content mentions them.
6. Local SEO
If your small business has a physical location like a shop or cafe, or a local service, such as a dentist, then you can implement a couple of local SEO strategies to help your business get found.
1) Off-page:
Start by listing your business on Google My Business (GMB) to connect with potential customers. It's a free platform that lets you feature your business and key information, including customer reviews and contact information, in Google Search and Maps. Google recommends you optimize your GMB profile as follows:
Provide as much information as possible – especially your business name, address, and phone number (NAP).
Make it easy for users to contact you – via phone and instant messaging.
Update and improve your profile regularly – add your latest photos, posts, and reviews.
2) On-page:
Once you've optimized your GMB profile, you can focus on your website by including the following items on relevant pages:
Google My Business map.
The location name in the title tag, URL, and the content.
NAP – name, address, and phone number – plus opening hours.
Client reviews and testimonials.
A short overview of the location.
7. Hire an SEO freelancer
SEO can be time-consuming, especially if you are completely new to it and need to spend hours researching. A common mistake is trying to do everything yourself, which takes you away from what you're good at.
If you're not sure how to implement any of these small business SEO tips, you can hire an SEO freelancer from the PeoplePerHour platform at very reasonable rates. Here are three examples:
So, you don't have to do everything yourself. Focus on what you're good at, and hire an experienced freelancer to help with SEO.
Final Thoughts
SEO doesn't have to be complicated. By following these practical SEO tips, you can put your business ahead of the competition. And if you're struggling to implement them, consider hiring an SEO freelancer to give you a hand.