PeoplePerHour Female Freelancer of the Year: Introducing the Nominees
Hi PeoplePerHour Community!
We love to celebrate the success of our freelance community and highlight their many achievements. As it's International Women's Day on March 8th, we want to put the spotlight on some of PeoplePerHour's amazing female freelancers.
Introducing: PeoplePerHour Female Freelancer of the Year, 2019.
Our team has nominated six incredibly talented freelance women who have been at the top of the leaderboard in their various categories during the last six months. Female freelancers who receive amazing reviews from buyers and always strive to give the very best customer service.
All six of them are superstars but there can only be one winner. So we're throwing open the voting to you to decide.
For the rest of this month, until February 28th, you can vote for the freelance woman that you'd like to see crowned as PeoplePerHour's Female Freelancer of the Year. Voting will then close and the winner will be announced to coincide with International Women's Day on March 8th.
Without further ado, let's introduce you to the nominees.
Female Freelancer of the Year; The Nominees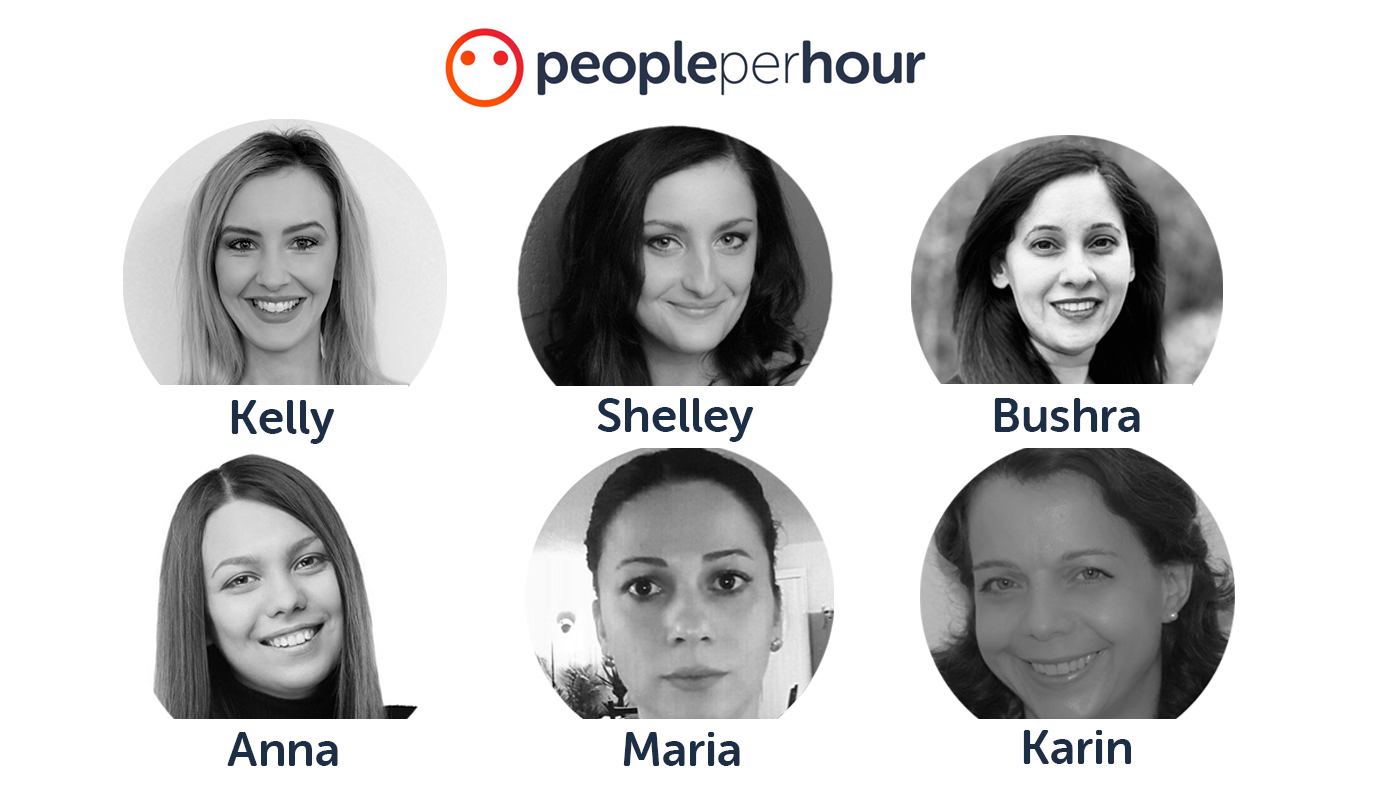 Kelly Bolton,
Freelance
Growth Marketing
"Driven. Enthusiastic. Ambitious. These are the qualities that I used to transform Aggressive Growth Marketing from a part-time start-up into one of the fastest rising digital marketing firms in the UK.
"I am proud of our unique approach, our innovative solutions and our growth marketing, business development and sales agency credentials."
"PeoplePerHour is a great freelance platform for me to get in touch with so many different businesses internationally. I love being able to offer my services in a clear manner and to be able to communicate so easily with my clients!"
---
Shelley Heath,
Freelance
Writer
"Words. In a word, that sums up my services. From web content to cover letters, blogs to eBooks, there are few forms of writing that I won't take on (safe to say that no two days are the same)."
"I decided to join  PeoplePerHour back in 2013 – and I've never looked back – not to the 9-to-5 grind, nor to the line-up of nightmare bosses in my past professional life."
"Two kids, 2033 projects, and ZERO horrible bosses later, PeoplePerHour is my sole source of writing projects and fabulous clients. Summing it up, this platform has been the making of my freelance life."
---
Bushra Sheikh,
Freelance
Business Consultant
"After 20 years working in the corporate world, I set BKS Consultancy up with my husband where we provide marketing and IT consultancy. I personally help businesses by providing flexible marketing solutions."
"My experience working with PeoplePerHour has been amazing, it has opened doors to work with other businesses I wouldn't otherwise have met. It's really rewarding being able to use my expertise to help a range of businesses from sole traders through to SME's. I've gained access to a network of potential clients and it's given me the work flexibility to suit my personal life."
---
Anna Kryzhanivska,
Freelance
Photo Retoucher
"I'm Anna, PeoplePerHour's TOP freelance photo retoucher and retouching Team Lead. It's almost four years since I've registered here having a strong willing to start a new page of my professional life and it looks like I succeeded in this!"
"The main services I offer are related to photo editing, retouching and cutout. I do some graphic design tasks for my clients as well.
Since my business has grown in a year of being with PeoplePerHour, I established a small team. My colleagues help me with big ongoing projects and I feel really happy about being able to share business opportunities with others."
---
Maria Alfred,
Freelance
Engineer
"PeoplePerHour gives me the chance to do what I love for the people who require it. The relationships I've developed with clients are invaluable to me. I donate half of my PeoplePerHour earnings to Cancer Research UK, because I believe it's a duty to help greater causes."
"I'm a Senior Structural Design Engineer providing engineering solutions for a great variety of domestic, commercial, industrial and agricultural projects. I've worked in the USA, Australia, Middle East, UK, EU, and Africa on diverse projects."
"I've been providing UK planning applications, building regulation drawings, and structural calculations for over 12 years now."
---
Karin Schroeck-Singh,
Freelance
Translator
"Translating various types of content from English into German is my passion. I'm able to make a difference to companies as well as individuals by helping them to promote their products/services or land a job in German-speaking countries. As a freelance translator, I always work accurately, quickly and reliably.
"Working on PeoplePerHour has a very positive impact on my life: it makes me feel HAPPY, empowered, rewarded, proud and free. My international clients and their diverse projects enrich my life, the learning experience is incredible and the luxury to work from home is priceless.  I consider myself lucky, thanks PeoplePerHour freelance platform for this awesome opportunity!"
---
Good luck to all of our nominees!
VOTING IS NOW CLOSED.