Freelance branding: Three surefire ways to build your freelance business
What is freelancer branding and can you even become a brand as a freelancer?
Being a freelancer is a popular thing nowadays, but when someone thinks of creating a brand, the one thing that immediately comes to mind is a company with at least some employees.
However, a brand has a more broad definition and is usually known for a feature that makes it stand out. So, anyone and anything can become a brand, including a freelancer.
Freelancer branding is essential to be successful in your freelance career
According to the statistics, 41% of freelancers plan to be a freelancer forever because this type of self-employment makes them feel more independent and secure.
However, to compete in the freelance market, you have to work hard to create a robust freelancer brand for your services.
So, if you're ready for this challenge, here are three surefire ways to help you build your freelance branding.
1. Define Your Personality
As a freelancer, you become a brand yourself. Thus, your personality plays a crucial role in making your brand unique. So, when thinking about freelance branding, remember it's closely related to your personal brand!
Defining the unique personality of your freelancer brand has a lot to do with your own character and personality. So the first step on the way to becoming a brand is analyzing your personality and distinguishing the features that will make your freelance brand stand out.
A great way to thoroughly analyze your brand's personality and find distinctive features is using a mind map approach. This method offers an organized and structured approach to analyzing everything from a novel to a business plan. It's also a great way to transform large amounts of information into sizeable logical parts as well as to organize different pieces of information into one coherent meaningful piece.
There are multiple tools online that can help you use mind mapping for brainstorming the key features of your freelance brand. Here are the most effective ones:
MindMup: this is a free online mind mapping resource that also has a feature of storing your mind maps in the cloud. This tools also offers a synchronization option that makes your mind maps available from any device;
Canva: this is a resource that offers multiple online tools for designers like creating a logo or cover photo for your Facebook page. Canva also has a mind mapping tool with colorful features and great designs to make your mind mapping fun and creative.
Coggle: this mind mapping tool is one of the most versatile resources. Although most of the features are paid, you can try it for free. It's a great "try before you buy" option and you get to see all the awesome features of this online mind mapping resource.
You can use any of these resources to create a mind map describing the personality of your brand. Here's an example of a mind map created in Canva: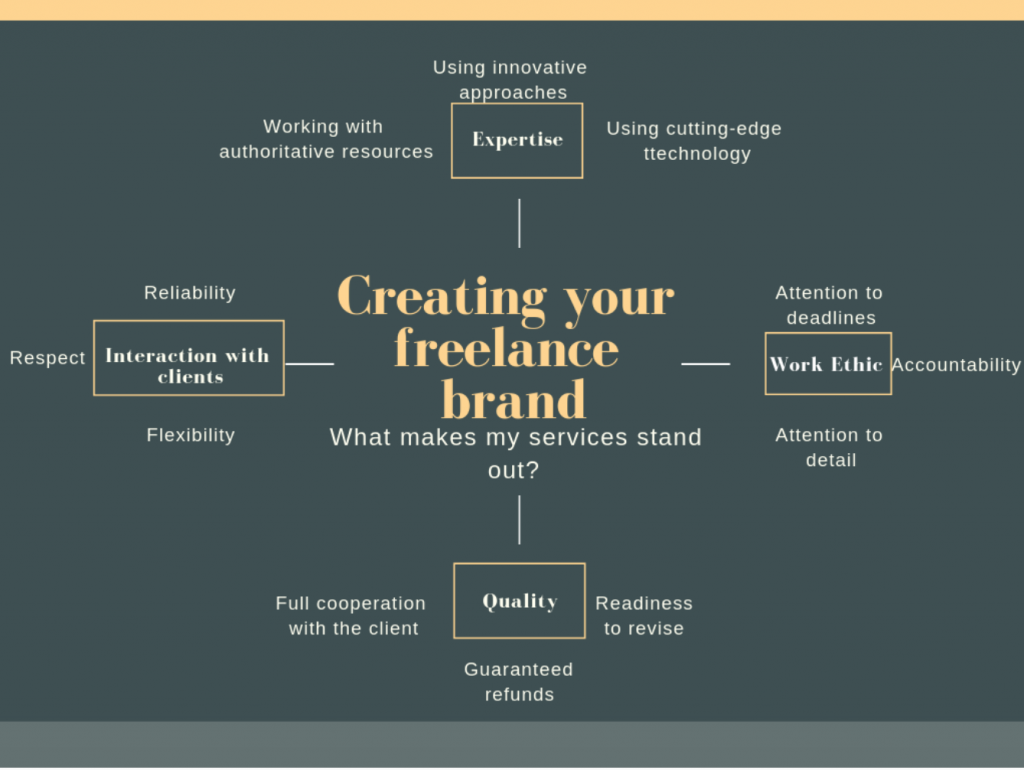 2. Create a Logo and a Brand Description
A huge part of freelancer branding is increasing your online presence. By doing so you'll be able to sell your services around the clock. However, with so many freelancers out there, you need something that will help your services stand out.
Let's start with a logo for your brand. This is a creative way to tell people about your brand that will help you get recognized instantly. Creating a logo is based on your values and the personality of your brand. It shouldn't be too blatant, messy or vulgar. Sometimes, the easiest and most effortless logos can help you grab the attention of potential customers.
There are lots of free logo making tools online, like Free Logo Design, Looka and Canva that was mentioned earlier. The main thing you need to focus on is how well the logo represents your brand. Until you achieve that, keep playing with logo making tools to achieve perfection. You can also seek help from the talented freelance logo designers on PeoplePerHour.
While a logo plays a great role on the creative and visual side of things, the description of your brand is a more informative way to tell everyone about your services before they even get to order from you. Here are some important things to keep in mind when creating the description of your freelance brand:
Create your bio: tell your customers about yourself, your education and your experience. Be candid and don't invent things that do not represent your reality.
If you advertise your services on Facebook or LinkedIn, make your bio shorter. People on social media usually don't like reading lengthy descriptions.
Keep updating your freelance brand description. The more experience you get, the more valuable your services become and you get recognized better.
3. Your Workspace is Important for your Freelancer Branding
It's true that the majority of freelancers work from home and interact with their clients mostly with the help of the Internet. However, some freelancers require a separate place for meeting with customers as they continue working the old-fashioned way alongside with using an online freelancing platform.
You may wonder "Why can't I meet the client at the café or restaurant to discuss details?"
You absolutely can. But if you're determined to create your own freelance brand, having an office to meet with your clients shows your professionalism and serious intentions.
Finding an office is easier than you may think. You can look through your local rental listings to find a suitable option. There are also some online tools offering offices for rent, like:
Flatfy: offers tons of options for entrepreneurs and the ability to communicate with the owner and negotiate the price.
ShareDesk: one of the most popular resources for renting an office space. There are over 5000 verified venues and prices are affordable. It operates across 70 countries so you can find an office space wherever you need.
Having an office space as a freelancer is a great move towards creating a brand. Besides, you can hang your logo at your office to let everyone know that you're pretty serious about your freelance brand.
You can create a good freelance brand and follow the road to freelance success
Freelance branding is a complex set of actions that you need to take so you can stand out from the competition. The only thing you should remember is that a good brand always stays true to its values. So, as a freelancer, always keep that mind map around to remind you of your brand's personality and values.
Featured Photo by Oleg Laptev on Unsplash