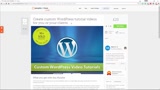 Matt did a great job once again with a really quick turnaround! Will work again with Matt soon as he's the best Wordpress Migrator on PPH!

Working with Matt was amazing. Not only he is very fast and knows his stuff thoroughly, he is also very generous with his time, his advice, and absolutely overdelivers. He is a real find and I look forward to working with him again
Susan R.

City of London, GB

Matt did a really great job for us! He helped us out with an urgent Magento/ecommerce issue when he was very busy on another project. Thanks to him our issue was solved incredibly fast and customers were happy again. Thank you very much Matt. I look forward to working with you again.

Helpful, knowledgeable and highly technically competent, I would recommend Matt without a doubt!
Francis P.

Winchester, GB

Exceptional work. Matt really knows how to rescue a site, clean it out and secure it going forwards. Great information supplied to explain the issues as well.
Greysons F.

Leicester, GB

Great as usual
WordPress performance issue
Francis P.

Winchester, GB

Amazing detailed knowledge and support - Matt went far beyond what I expected. Highly recommended.
Excellent again. Very professional and efficient service.
Marco Michele G.

Rome, IT

Matt is a top notch

Marco Michele G.

Rome, IT

Matt is a top notch
Another great job well done by Matt! Improved website loading speed drastically, despite our host being far from the fastest "Daddy" - from over 5 seconds to a very acceptable, just over 1. I'm sure our Google ranking and customers will benefit from Matt's handy work.

Stephen T.

Wandsworth, GB

Matt was great to work with and carried out everything very quickly. The difference he has made with my website is amazing as it is a lot faster and now scoring better on insights and other speed ranking websites. Great work, thank you.
Child theme for Divi theme
Excellent job done and easy to communicate and work with. Highly recommended!
Updates to magento website
Building a new website can be a daunting task but with Matt's communication skills and expertise it has been a very easy and enjoyable process.
From the start Matt has been totally professional and 100% commited to creating a fantastic website, and will go that extra mile to achieve this for his clients.
Will definitely be using Matt again in the future for other projects.
Thanks Matt your a star..

What a breath of fresh air it is to work with matt, His depth of knowledge combined with his ability to explain complicated technical issues in a easy to understand way are a delight.